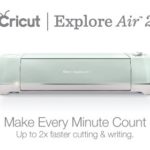 (This post contains affiliate links and if you click through and buy something I'll get a few pennies to support my vintage cookbook, yarn and art supply habits)
July Mystery Box for only $29.99 launches July 15th at 12AM EST! Available while supplies last.
Stay organized in style at home or on-the-go with Cricut® bags and totes starting at $29.99! (valid 7/5 – 8/1)
Free Shipping all US orders with code CHRISTMASINJULY at checkout. (Valid 7/5 – 8/1)
Introducing Cricut BrightPad: Create intricate artwork and craft projects with this extremely versatile lightbox.